Audioblocks is hashtag winning when it comes to the free music game. It boasts of tons of sounds and loops, you'll get unlimited downloads, that are 100% royalty free AND it's continuously updated. Ummm, can we say yes!
The website is super-easy to navigate, discover royalty free music for your next video, or commercial project.
Tons of awesome royalty free music to choose from, there's even a feature to download all the music on the site, in a one two push!
SoundCloud has a thriving community of producers and artists. Discover music you like and shoot artist an email asking to use their track, and what their requirements are. You may or may not have to pay a fee and you'll usually need to cite the artist in the video so they can get their props😊.
5
YouTube's Audio Library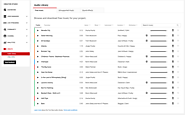 YouTube has made it easy to get free music on your video. YouTube even tells you if you can monetize the video when you select a track. Here's how to navigate to it: Click on your profile pic in the top right corner > Click Creator Studio > Click Create > Click Audio Library and boom, you're in!
Comments
comments