1
Make An Inspiration Board
Transport yourself from your designer desk to the front row of fashion week with an oversized inspiration board like Erika Brechtel's. Whether you're a blogger, designer, or photographer, it's important to surround yourself with the stuff that make you happy. Inspiration boards are easy to make and conjure a wealth of charm. Via The Decorista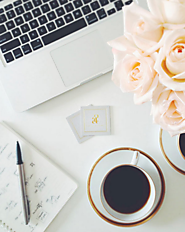 Flowers are an easy and fresh way (literally) to take your space from dreary to dreamy. Our personal favorite florals are white roses, there's something so elegant about those sophisticated blooms. Now, there are so many options for home delivery, you really can't go wrong, but The Bouqs Co.. is one of those flower companies that truly delivers (pun intended). The Bouqs Co's arrangments are so gorgeous and the whole home delivery thing is super simple to set up. You pay a flat rate of $40 (shipping included) and the flowers stay fresh for weeks. Via Flickr // This is Glamorous
3
Add an epic seating area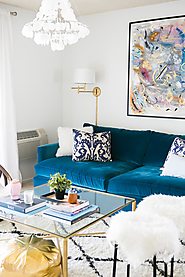 If you have the room for the extra seating it's a great idea to section off an are for epic seating, This may be something you'll want to do if you plan on inviting clients in. Take a style cue from this beauty. This is the living room of actress Katherine Vo. The deep aqua marine sofa just says, "Have a seat, Stay a while." Adding such a punchy color in your home office is definitely diva! Via The Every Girl
4
Go exquisite with the lighting
Bold chandeliers in a home office are stunning, and would make any room hashtag #goals. Check out these bold lighting fixtures, The pattern on the ceiling adds an extra dash of wow. Loves it! Via Live Simply By Annie
Scale is a key element in design that deserves to be utilized in any room of the home, but especially your home office. If there's one beautiful art piece you love, show it off and give it the light it deserves. If it inspires you, it's definitely something you'll want to show off. Via Made By Girl
6
Add a chic shelfing unit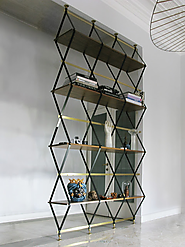 Shelving is imperative for everything a girlboss needs. Long gone are the days of boring and clunky shelving units. Just take a look at this modern system by Pietro Russo. Stellar!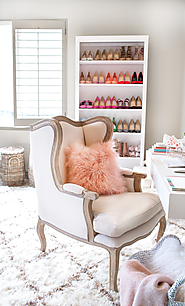 Comfort is king and a plush rug can bring your home to a next level comfy oasis. You can go bold like Rachel did with leopard or keep the color muted to visually add space and luxury. Just looking at this picture of Christine Andrew's space makes us want to peacefully type up a slew of blog posts. Via Hello Fashion Blog
8
Make your office a dressing room and home office combo.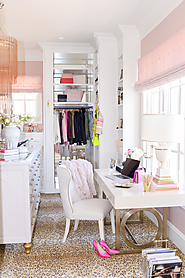 This killer combo elevates any home office to a lux space. If fashion is your jam, this tip is for you. Rachel Parcell is totes glam in her home office, where she can work and play in her designer duds. Via PinkPeonies.com
9
Add an unexpected pop of color
Pops of color in fashion have always been a staple, and it should be a staple in your home office. Monochromatic themes with that one to two unexpected pops of color can add class and sophistication to your home office. Just take a look at this bold statement of a room. Via OnlineFabricStore.net
Comments
comments