1
Headphone Crowns For the Princess In All Of Us
Pietro D'Aprano/Getty Images
These insanely gorgeous headphone crowns debuted in Milan Fashion week last May and are nothing short of breathtaking, Dolce & Gabbana certainly raised the bar for tech fashion to new levels. Now you can be the music loving princess you've always wanted to be. These babies can be yours for six to eight grand. Music never looked so good!
2
An Emoji Lovers Dream Jewelry Line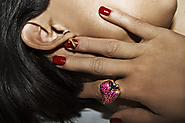 Via Galore
These pretty pieces make it okay to wear your your e-motions on your arm. The girl boss behind the brand Kristen Noel Crawley makes jewelry for the emoji adorer and we couldn't be more obsessed. You've probably seen these pretty pieces donning the décolletages of your favorite style icons gracing the pages of your favorite blog. Rihanna was spotted wearing a pair of the "screw earrings" herself, get yours at www.lovekdia.com.
3
This Smart Gem of a Jewel Only Notifies You When You Say it's OK
Via Ringly Instagram
Have you ever met someone who is constantly staring down at their phone on a night out? Soo annoying right?! Buy them this ring and they will have no other excuse but to pay attention to you on your rendezvous. Not only is this ring to-die-for-hunty but its functional! You program when you want to get notifications and the ring buzzes when its that one important, earth shattering thing you must attend to. It comes in amazing colors, we so happen to ADORE the pink chalcedony. Get yours now for just under 200 bucks.
4
This Amazing Wallet Will Never Get Lost
Via fancy.com
So you had one too many cosmos on a night out and between the Uber and your epic night life of fun, you misplaced your wallet(we're not judging). This wallet just saved you. Parabellum, a leather goods maker based out of L.A. and the TrackR app joined forces to bring us this smart wallet. Not only is it thin and stylish, it's nearly unlose-able, and that's kind of amazing. It will you set you back about 300 bucks, but you're gaining peace of mind for all those crazy one off nights! Pretty ingenious if we say so ourselves!
5
Kate Spade IPad Cases FTW
Via KateSpade.com
Can Kate Spade do wrong?? Kate Spade can do no wrong. We love our iPad, from the Audible app to Netflix, the iPad, is a gadget girl's dream. Kate Spade has made it possible to protect our goods with style and grace. This classic striped design is our personal fave, but Kate Spade has an array of exciting design choices, not only for your iPad, but your laptop and cell phone too. This case retails for $70 USD at www.KateSpade.com
6
Is it a Camera or a Phone?
I know what you're thinking, Kate Spade, again. Yes Kate Spade again because this cell phone case pretending to be a camera gives us life. It's super cute, and bold, and we adore cameras, so it makes the cut. We're pretty sure you'll never forget where you left your phone. You can get your paws on this cute little guy for $35.00 at Nieman's. You're welcome.
7
This Polaroid Instax Camera Case is for Lovers
We too got swept in the craze that is the install mini Camera and for good reason, they are SO much fun! It's a bit of and awkward shape and fully deserves its own case, like this one from Urban Outfitters! It retails at $24 USD, you can't bit that with a stick!
8
3D Phone Case for Unicorns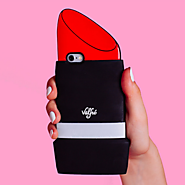 Via Valfre.com
And because we love cell phone cases pretending to be other things, we thought we'd add this lipstick cell phone case from Valfre to the roundup for good measure. You've seen your favorite instagram Divas like Amina Mucciolo sporting this case, it's time to get your own. Valfre also sells cute kitty phone cases and the infamous 'Boys Tears' cell phone case. We can't get enough of Valfre phone cases! They're $38 a pop.
Comments
comments