1
A Make Up Cleansing Balm for Unicorns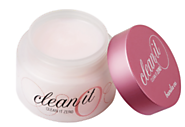 What it Is: Clean It Zero
Key Superpower: Melts away makeup in a flash
Price: $16 - 21 USD
Where To Buy: www.SoKoGlam.Com
Why it's Your Favorite Beauty Guru's Fave: This cleansing balm is a popular beauty buy amongst makeup lovers. Jen Im of Clothes Encounters admits, "Beauty Balms are a new thing for me, and I think I really love it!.... This guy REALLY melts off all your makeup...Even my waterproof mascara, which I thought was really impressive."
The Epic Pros: Leaves your skin squeaky clean
-Does not strip your skin
-Leaves your skin uber moisturized
2
A Cushion Compact That Loves On Your Skin
What It is: Amore Pacific Color Control Cushion Compact Broad Spectrum SPF 50+
Key Superpower: Super Sun Protecting
Price: $60 USD
Where to Buy: www.Sephora.com
Why You Need it: Dubbed skin care in a compact, this cushion compact provides a holistic approach to beauty. The sponge is equipped with antibacterial products in it so you don't have to feel icky about using it everyday.
Why you Want it:
-Broad SPF Protection 50!!!
-Reduces Puffiness
-Airbrushed flawless coverage, covers fine lines and wrinkles
-Green Tea Complex that brightens at the skin
-Super Hydrating
3
Go Ahead Cry It Out Girl, This Eyeliner Won't Budge!
What it is: Club Clio Waterproof Pen Liner Kill Black
Key Superpower: Long lasting stay
Price: $22 USD
Where to Buy: www.BirchBox.com
Why it's a Makeup Lover's Go To: This beauty tool has been hailed by Birchbox and makeup gurus alike, this pen is the liner of all liners boasting of a crazy long wear time, and for those dreary days in the office or those forget it all Friday night's this K-Beauty fixture is sure to stick it out with you.
Why you'll Heart it Too:
-Amazing Waterproof Powers
-Longgg Wearing and Smudge Resistant
-Easy To Use (if you're an avid winged liner wearer you'll appreciate this!)
4
The Night Mask That Beats All Other Night Masks
What It Is: Laneige Water Sleeping Mask
Key Superpower: Rejuvenating Properties
Price: $23 USD
Where to Buy: Tarjay-ay or Target
What It Does: Insert this K-Beauty dream product into your night routine for omg results. The orange, rose and sandalwood notes relax you, so you can sleep soundly knowing that you'll wake up-FLAWLESS. Morgan of Beauty Breakdown directs, "After you're done applying your skin care for the night, apply a thin layer of this all of your face. It's not tacky or sticky.. go to sleep and [when] you wake up in the morning and wash it off, your skin looks nice and plump and radiant and luminous!"
Why You Want It:
-Wake up looking more hydrated
-Not tacky or Sticky
-Pleasant Smelling
-Boosts Hydration
-You can get it at Tarjay-ay or Target but I prefer Tarjay-ay
5
Rejuvenate Your Skin With This Cult K-Beauty Power Potion
What It Is: SK-II Facial Treatment Essence
Key Superpower: Anti Aging
Price: $99 - 150 USD
Where to Buy: SK-II Online
What It Does: This Beauty potion in a bottle is proven to give you your youthful glow back. Why? Because of the essence, the essence of Pitera or "youth in a bottle". The creators of SK-II happened upon the essence of Pitera when scientists noticed at a particular sake brewery, the hands of the factory workers were noticably smooth and yummy looking (yummy looking, see youthful, fresh), and wa-lah, those geniuses bottled it for us!
Why You Want It:
-Supports cell renewal
-Gives you glowing skin
-Made without synthetic fragrances, sulfates or GMO's
-Improves texture and clarity
Comments
comments